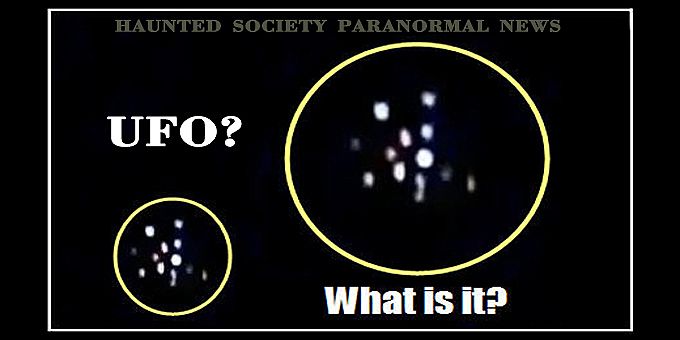 Check Out This Video of A Compelling UFO Sighting Caught On Video Camera In South America. Is This UFO Proof of Alien Life, Or What Could This Be? Watch The UFO Sighting Video Here... Haunted Society Paranormal News

Monday, August 6th, 2012
Article By:  Phillip Brunelle
www.HauntedSociety.com
SOUTH AMERICA  --  Many people can't believe their eyes when they watch this compelling video of a UFO sighting in South America. While many pictures and videos of UFO sightings can be explained, once in a blue moon you come across a UFO video that's out of this world.

The unidentified flying object seen in the video (below) has a remarkable appearance, with bizarre lights and a shape that resembles a snowflake. During the video the UFO appears to disassemble, or launch, smaller UFOs that seem to hover around the original object.


Find more videos like this on Haunted Society

This UFO was caught on video camera this weekend, August 4th in South America, and this is probably the first time you will be reading about it, and watching this amazing UFO video. Although the people recording the video of this UFO are speaking Spanish, you can hear the shock and excitement in their voices. What do you think about this UFO video? Is this an alien craft, or how else would you explain what this UFO is?

Share your thoughts in the comment section below, and if you're not yet a member of Haunted Society Paranormal Network CLICK HERE to become a member of our free social networking paranormal community and trusted source of paranormal news. Please be sure to share this on your Facebook, Twitter, etc.. using the share links below...

SHARE THIS UFO VIDEO WITH  OTHERS

Direct Link To This UFO Video

www.hauntedsociety.com/video/ufo-sighting-video-south-america-2012
Embedded Code To This UFO Video

<embed class="xj_video_embed" wmode="opaque" src="http://static.ning.com/socialnetworkmain/widgets/video/flvplayer/flvplayer.swf?xn_version=3704000907" FlashVars="config=http%3A%2F%2Fwww.hauntedsociety.com%2Fvideo%2Fvideo%2FshowPlayerConfig%3Fid%3D6504688%253AVideo%253A13263%26ck%3D-%26theme982Version%3D74&amp;video_smoothing=on&amp;autoplay=off&amp;hideShareLink=1&amp;isEmbedCode=1" width="456" height="344" bgColor="#353b26" scale="noscale" allowScriptAccess="always" allowFullScreen="true" type="application/x-shockwave-flash" pluginspage="http://www.macromedia.com/go/getflashplayer"> </embed> <br /><small><a href="http://www.hauntedsociety.com/video/video">Find more videos like this on <em>Haunted Society</em></a></small><br />
To Share This Video On Your Facebook, Twitter, Etc.. Use The Link To This Page or The UFO Video Direct Link Above. To Embed This Video On Your Website, Blog, Etc..  Copy / Paste The Entire Embedded Code Above. You Can Also Use Share Buttons Below and The Bottom Toolbar.